SHOPIFY MEETUP TOKYO #3 - THANK YOU!!!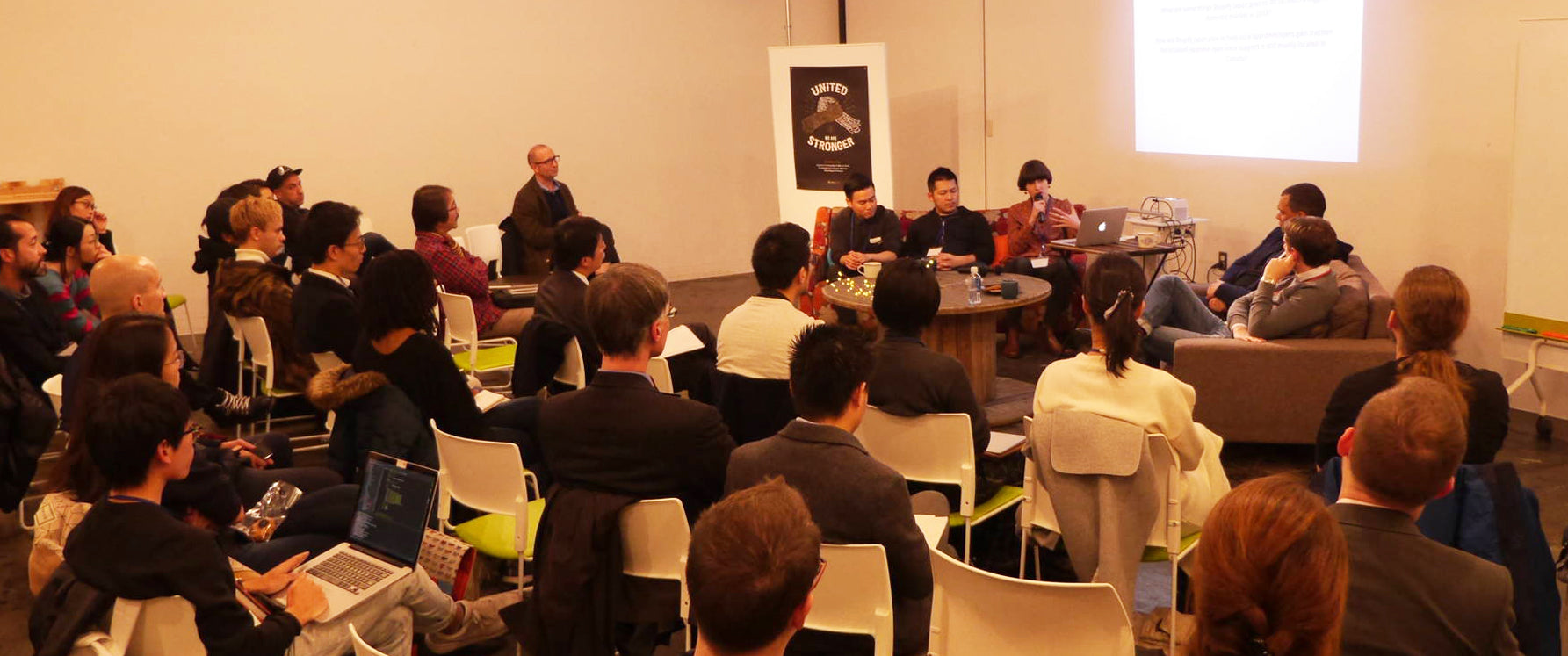 Yesterday we had the pleasure to host the third Shopify Meetup in Tokyo, which took place at the Impact HUB Tokyo, coworking space where Flagship is primarily based.
First Shopify Meetup to be held in English in Japan, it has witnessed a highly diverse audience, both in terms of nationality and business background, featuring current and potential merchants, agencies, freelancers and app developers.
The event started with an introduction on the current status of Shopify in Japan by Flagship founder Koji Jimba. Shopify has been optimizing more and more its services for the Japanese market recently, having now a checkout completely optimized for Japanese and an admin panel finally translated in Japanese as well. The number of partners and Shopify-focused developers and agencies is growing steadily and hopefully so will do the number of apps dedicated to Shopify in Japan. More payment options are also becoming available, thanks to the integrations with PayPal, Komoju and Stripe. The platform threedotfive, founded by Flagship but featuring several external contributions, keeps providing new insights on the status-of-things of Shopify in the country, together with business cases and best practices, also Shopify-related.
A discussion on the topic of holiday sales has followed, featuring David Asikin, CTO at the successful subscription-based online store TokyoTreat, Jacob Iyamu and Thomas Bertrand, both merchants, respectively for Solaris Japan and Bento&co, and third-party app providers for Shopify Japan, and Leo Park, Head of E-commerce Consulting (APAC) at Shopify Plus. Holiday sales clearly represent a chance for higher revenues, but the discussion revolved around how not to lose such opportunities first, and which best practices to apply when it comes to higher volumes, an important amount of first-time-customers, tasks automation and most effective marketing tools.
Many were the points tackled, but we would like to highlight some:
- The most effective marketing tool when it comes to conversion rate still is email. With the right targeting and a strong understanding on when and how holidays affect customer spending, newsletters and email promotions still represent a powerful tool to drive revenues. This means one thing: growing your subscribers base, and knowing it well, are still key elements.
- Logistics. If your marketing campaign works, this will result in a strong peak in sales. Which means: you need to be prepared in terms of inventory, shipment and customer care. Differently from what you can often read online, customers of Bento&co and Solaris seem to respond well to the possibility of shipment upgrades and express delivery, even if this requires the payment of a premium amount. Transparency with consumers can avoid episodes which can easily ruin the merchant reputation, especially when it comes to new customers.
- Automation is key in saving time, and Shopify Plus tools such as Shopify Scripts, Flow and in general the possibility of tagging allow a strong automation of repetitive tasks, and therefore save a considerable amount of time. A recurring topic in this sense has been fraud: apparently Signifyd is now the preferred option between merchants, which not only allows to automate order reviews but also seems to be quite reliable when it comes to avoid identifying as apparent frauds actual legitimate clients.
During the Q&A session, a strong demand for more Shopify-related apps and services has appeared clearly, reassured by Leo's statement that Japan is in the tier 1 priorities for the upcoming year of the company. An interest towards emerging markets has also arisen, particularly with a focus on Africa, but apparently the logistic challenges are still high, making areas like China or South America more suitable at the moment for who wants to invest in new markets.
Overall, a highly-engaged community has gathered around the event, which makes us hope that we'll see even more partners, developers and merchants populate the scenes next year.
A huge thank you goes to our guests Leo, David, Jacob and Thomas, Shopify and Shopify Japan, Impact HUB Tokyo, San Pellegrino, and, most important, all the people who came to the meetup yesterday.
The community is growing, and ideas run fast. Let's keep it up!
More pictures of the event on our Facebook page.