SHOPIFY MEETUP TOKYO #4 - THANK YOU!!!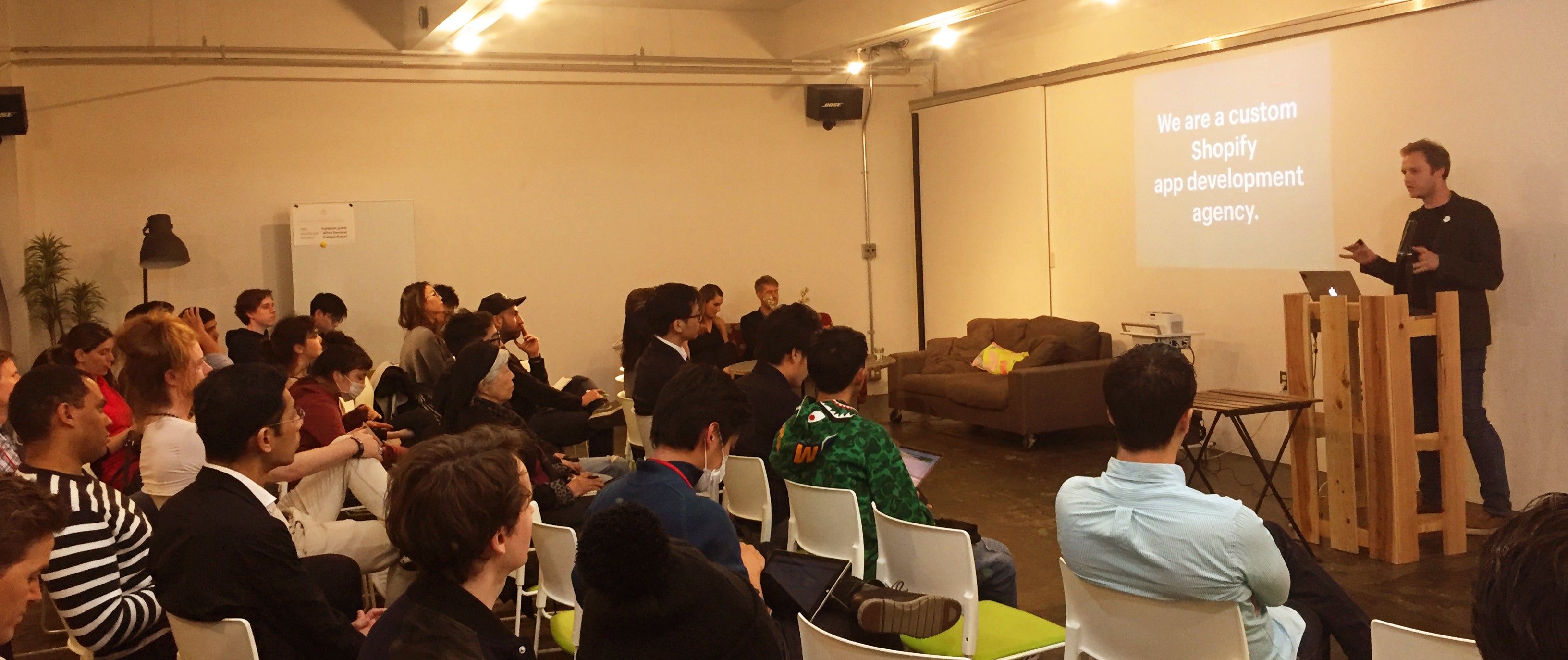 On April 6th we have been happy to host the fourth Shopify Meetup in Tokyo, once again at Impact Hub Tokyo, Flagship's office, favorite coffee spot and event headquarter.
This time we had the honor to have with us two of the greatest Shopify Partners in Australia: Disco, in the person of the founder and CEO Gavin Ballard and The Working Party, in the person of the founder and CEO Cal Wilson and the COO and Finance Manager Kelly Brown.
The event has started with the traditional update about Shopify in Japan by Flagship's founder Koji Jimba, which has highlighted the advancements made by Shopify in terms of localization for the country, between which an increasingly wider variety of payment gateways available, a fully Japanese Shopify admin panel and some optimization of the checkout for the Japanese name and address format.
Right after the introductory speech Gavin Ballard, famous not only for his work with Disco but also for having created one of the most useful books about Shopify development, The Definitive Guide to Shopify Themes, has shared with the audience three straightforward - and surprisingly not technical - takeaways from his long experience as a Shopify Partner.
1. Join the Shopify community and be an active part of it! Shopify is known for having one of the most passionate, knowledgable and helpful crowds out there. If you have a problem, the chances that someone else has faced it before are quite high, so don't hesitate to ask. Vice versa, use your knowledge to help others. The variety of challenges posed by e-commerce is growing constantly, and everyone can easily become an expert in his/her little field, independently from being a merchant, a developer or an agency. Many are the online communities you could join depending on your country, sector and role. We would like to recommend this facebook group, specifically targeted to the Shopify ecosystem in Japan.
2. Find your niche! It can sound as more of a marketing advice, but reality is, it works. Gavin gave an excellent explanation on how, through the years, he moved from defining himself a freelancer, to a freelance e-commerce developer, to a Shopify development agency, to narrowing it down to being the custom app development agency for Shopify Plus merchants.
3. Be a partner! Proactivity and desire to explore and dig deeper are at the foundation of being successful Shopify Partners. New questions can highlight new challenges, and a complete understanding of the "Whys" of clients decisions and requests can bring to deliver a better service on one side, and make you grow as a Shopify Partner and as a professional at the same time.
Gavin's presentation has represented a deeply inspiring framework to dig deeper in specific topics with Cal and Kelly from The Working Party.
Cal Wilson has given a deep overview of the concept of "Design Systems" and how they can unlock the potential of agencies' creative budget. His systematic explanation has given the audience some actionable and straightforward advice on what Design Systems are, how they can be created, used, leveraged and, ultimately, become the foundation for building Shopify Themes.
While you can find his full presentation here, we would like to highlight his definition of Design System, "A set of principles or procedures according to which design is executed". This results in reusable designed components whose usage is regulated by rules, which will support "front loaded" decisions offering a dynamic tool, Design Systems themselves. In the presentation you can find a concrete guide on how to build such systems and leverage them for the creation of Shopify Themes.
Kelly Brown, who has more than ten years experience working in the fashion industry, has concluded the Meetup sharing the tips and best practices she has identified during her long career in global brand management, focusing in particular on brands who want to take the extra step and explore B2B into new markets.
In a global and connected world exploring new markets doesn't necessarily require high initial investments: online sales channels, social media and digital marketing represent in fact a chance to explore and test first before investing considerable resources into a specific market. A great chance to test new markets digitally is represented by Shopify's integration with instagram, which allows to test geographically targeted campaigns and therefore assess customers' response with a relatively small investment.
Speaking of wholesale, Shopify Wholesale Channel allows brands to deal with wholesale clients, and all the related discounts, quantity management and automation, without exiting the Shopify admin panel, representing a great chance for centralized management for brands who started selling online and are now expanding into new sales channels.
The combination of digital testing and campaigns, wholesale planning and, if a market shows high potential, on the spot research and networking together with eventual third party agents and distributors should be the key to an organic and sustainable brand growth.
The Meetup has ended with your questions about Shopify and an intense and extremely fun networking session. A big thanks once again to all our guests, participants and organizers!
Stay curious about Shopify, and don't forget to subscribe to the next Meetup hosted by Archetyp here!